Melbourne has a huge number of different cuisines available all around - we like our food, our coffee and trying something new on every corner.
Chinatown [East-central CBD]
Stretching along Little Bourke St between the corners of Swanston and Spring Streets, there are a large number of options for asian eateries for all budgets.
Lygon St [North of CBD]
Sometimes referred to as Melbourne's Little Italy there's plenty of choice and budgets.
Southbank [South CBD]
Variety of cuisines - generally high quality but with a price to match
CBD
Hardware Lane between Lonsdale and Bourke St has a number of different and tasty places to eat.
Degraves St just off Flinders Lane has small but flavourful cafes.
Queen Vic Market (QVM)
The food trucks and hall in QVM are great for a light bite while you wander the stalls of the market. Fantastic for buying fresh fruit, veg, meat or deli items it's open every day except Mondays and from Nov - Apr also has a Wednesday night market with a big selection of food stalls and live music.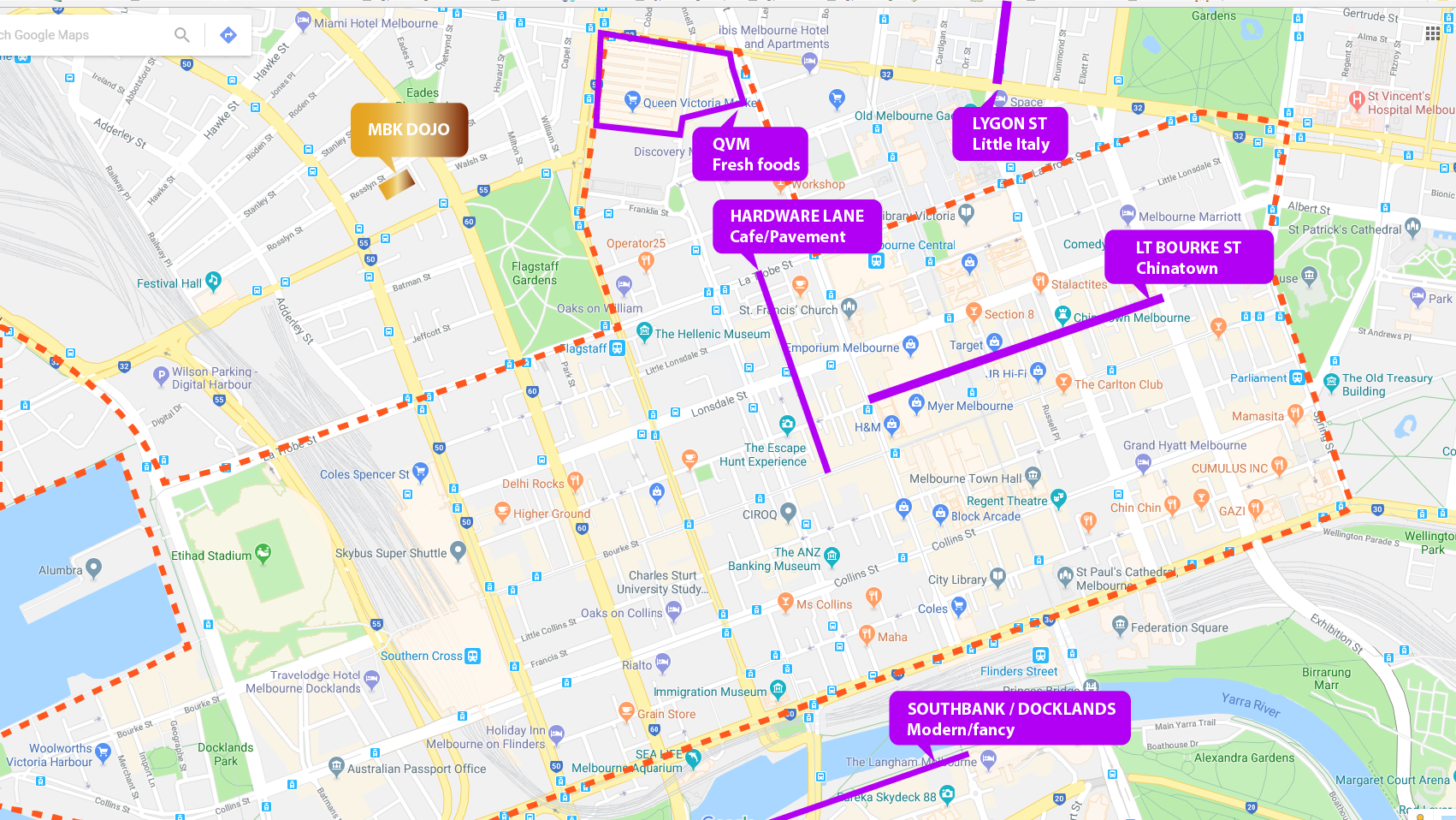 Coeliac/Gluten allergies
While many Melbourne eateries offer gluten-free options on their menus, here's a list of a few places that have a decent range of items that are gluten-free or can be made gluten-free.
The French Brasserie - a little pricey (and fancy) but offering a good variety and quality
Mrs Parmas - local craft beers AND GFO parmigianas!
Father's Office - speakeasy styled American eatery
Chocolate Buddha - communal Japanese dining
Huxtaburger - need a burger? Huxtaburger!
Need some veg?
For those who like their food with less moo and more greenery, never fear, Melbourne is here!
Gopals Vegetarian Restaurant - offering meat-free and vegan European, Indian and Asian cuisines.
Gong De Lin Vegetarian Cuisine - vegan/vegetarian all the way!
Om Vegetarian - offering delicious vegetarian Indian foods. Plus they come with a great social conscience, providing free meals to those in need every day.
Crossways - Vegetarian, vegan and wheat-free daily set meals with an all you can eat option.
Invita Living Food
Lord of the Fries - Casual take-away venues that is fully vegan, kosher and halal and their mock-meats are good enough to tempt even a dedicated meat-eater!
Supercharger - All vegan build-a-bowl located in the heart of the Emporium food court
Thirsty?
Beers
Cookie
Temple Brewing
Eva Bar
The Alehouse Project
The Crafty Squire
Ponyfish
Boilermaker House
The Boatbuilders Yard
Wine
Embla
Cumulus Up
Kirks Wine Bar
Cocktail bars
Bomba Bar
The Everleigh
Eau de Vie
Bar Americano
1806
Hihou
Lily Blacks
Whisky and Ale